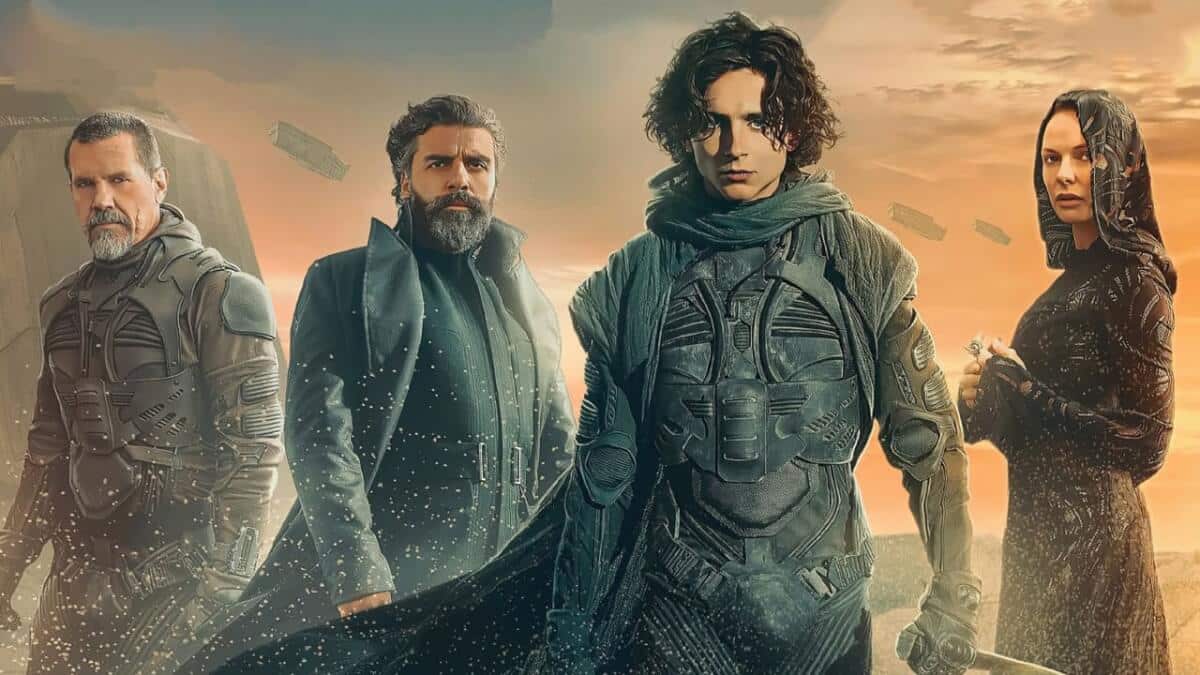 As October arrives this weekend, there's a whole heap of exciting new movies to be enjoyed on Netflix, including Denis Villeneuve's Dune. You'll be spoilt for choice this Sunday.
Here are the best new movies and TV shows added to Netflix US this week:
Featured Videos – Article Continues Below…
---
Dune (2021)
Director: Denis Villeneuve
Genre: Action, Adventure, Sci-Fi | Runtime: 155 Minutes
Cast: Timothée Chalamet, Oscar Isaac, Zendaya, Rebecca Ferguson, Stellan Skarsgård
"Paul Atreides, a brilliant and gifted young man born into a great destiny beyond his understanding, must travel to the most dangerous planet in the universe to ensure the future of his family and his people. As malevolent forces explode into conflict over the planet's exclusive supply of the most precious resource in existence-a commodity capable of unlocking humanity's greatest potential-only those who can conquer their fear will survive."
---
Reptile (2023)
N
Director: Grant Singer
Genre: Crime, Drama, Mystery | Runtime: 134 Minutes
Cast: Benicio Del Toro, Justin Timberlake, Eric Bogosian, Alicia Silverstone, Domenick Lombardozzi
"Following the brutal murder of a young real estate agent, a hardened detective attempts to uncover the truth in a case where nothing is as it seems, and by doing so dismantles the illusions in his own life."
---
Nowhere (2023)
N
Director: Albert Pintó
Genre: Drama, Thriller | Runtime: 109 Minutes
Cast: Anna Castillo, Tamar Novas
"A young pregnant woman named Mia escapes from a country at war by hiding in a maritime container aboard a cargo ship. After a violent storm, Mia gives birth to the child while lost at sea, where she must fight to survive."
---
Castlevania: Nocturne (Season 1)
N
New Episodes: 8
Genre: Anime, Action, Adventure | Runtime: 30 Minutes
Cast: Zahn McClarnon, Edward Bluemel, Sophie Skelton, Nastassja Kinski, Pixie Davis
"During the French Revolution, vampire hunter prodigy Richter Belmont fights to uphold his family's legacy and prevent the rise of a ruthless, power-hungry vampire."
---
The Wonderful Story of Henry Sugar (2023)
N
Director: Wes Anderson
Genre: Short, Adventure, Comedy | Runtime: 37 Minutes
Cast: Ralph Fiennes, Benedict Cumberbatch, Dev Patel, Ben Kingsley,
"A rich man learns about a guru who can see without using his eyes. He sets out to master the skill in order to cheat at gambling."
---
BlacKkKlansman (2018)
Director: Spike Lee
Genre: Biography, Comedy, Crime | Runtime: 135 Minutes
Cast: Alec Baldwin, John David Washington, Isiah Whitlock Jr., Robert John Burke, Brian Tarantina
"Colorado Springs, late 1970s. Ron Stallworth, an African American police officer, and Flip Zimmerman, his Jewish colleague, run an undercover operation to infiltrate the Ku Klux Klan."
---
Get Out (2017)
Director: Jordan Peele
Genre: Horror, Mystery, Thriller | Runtime: 104 Minutes
Cast: Daniel Kaluuya, Allison Williams, Catherine Keener, Bradley Whitford, Caleb Landry Jones
"Chris and his girlfriend Rose go upstate to visit her parents for the weekend. At first, Chris reads the family's overly accommodating behavior as nervous attempts to deal with their daughter's interracial relationship, but as the weekend progresses, a series of increasingly disturbing discoveries lead him to a truth that he never could have imagined."
---
Gladiator (2000)
Director: Ridley Scott
Genre: Action, Adventure, Drama | Runtime: 155 Minutes
Cast: Russell Crowe, Joaquin Phoenix, Connie Nelson, Oliver Reed, Richard Harris
"In the year 180, the death of emperor Marcus Aurelius throws the Roman Empire into chaos. Maximus is one of the Roman army's most capable and trusted generals and a key advisor to the emperor. As Marcus' devious son Commodus ascends to the throne, Maximus is set to be executed. He escapes, but is captured by slave traders. Renamed Spaniard and forced to become a gladiator, Maximus must battle to the death with other men for the amusement of paying audiences."
---
Saving Private Ryan (1998)
Director: Steven Spielberg
Genre: Drama, War | Runtime: 169 Minutes
Cast: Tom Hanks, Matt Damon, Tom Sizemore, Edward Burns, Barry Pepper
"As U.S. troops storm the beaches of Normandy, three brothers lie dead on the battlefield, with a fourth trapped behind enemy lines. Ranger captain John Miller and seven men are tasked with penetrating German-held territory and bringing the boy home."
---
One Piece (New Seasons)
New Episodes: 25
Genre: Anime, Action, Adventure | Runtime: 24 Minutes
Cast: Mayumi Tanaka, Akemi Okamura, Kazuya Nakai, Kappei Yamaguchi, Hiroaki Hirata
After escaping from Thriller Bark, the ship and home of Pirate Warlord Moria, the Satraw Hat Crew make their way to the Saboady Archipeligo where every rookie pirate of the "Worst Generation" have gathered.
---
What are you going to be watching on Netflix this weekend? Let us know in the comments below!