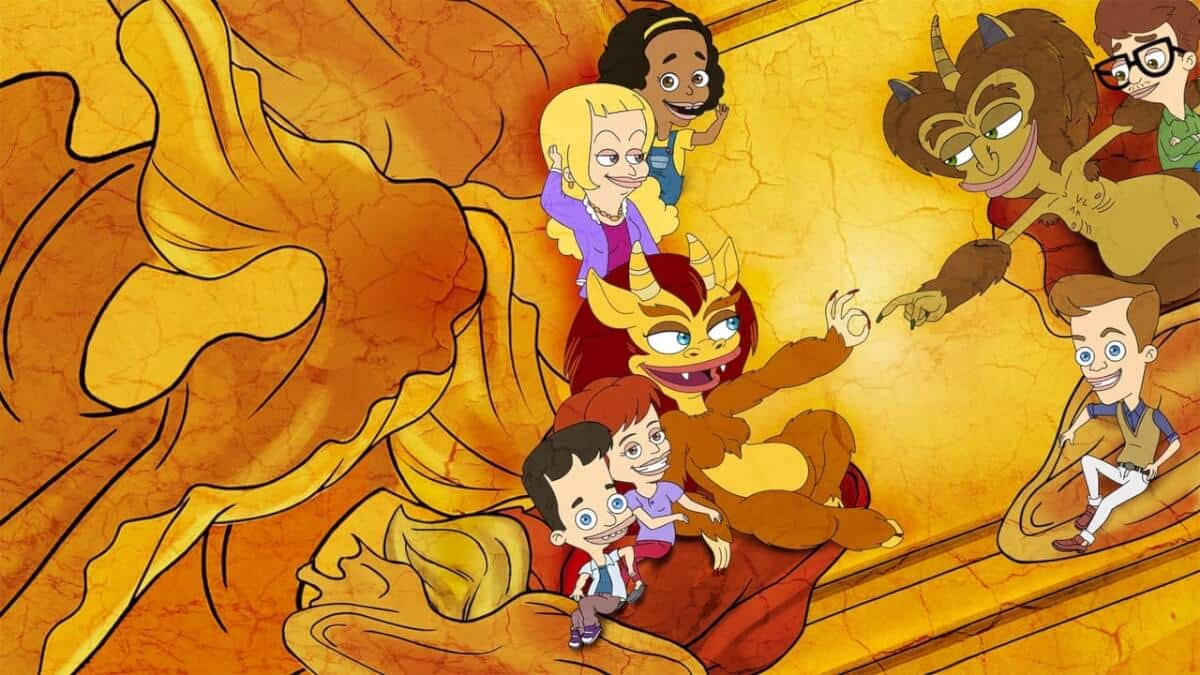 With their graduation to high school, an eighth and final season awaits the fans of Nick Kroll's adult animated comedy Big Mouth. We'll be keeping track of everything you need to know about the final season of Big Mouth on Netflix.
One of the most successful comedy series on Netflix to date, Big Mouth has been entertaining, and educating, millions of subscribers from around the world since September 2017. For the past several years the release of the latest season of Big Mouth has become an annual fixture in the Fall, but thanks to the announcement that season 8 will be the show's last, Fall 2025 is going to hit differently.
Featured Videos – Article Continues Below…
---
Big Mouth Season 8 Netflix Renewal Status
Official Netflix Renewal Status: Renewed (Last Updated: 23/10/2023)
We've known since May 2023 that Big Mouth would be returning for an eighth and final season on Netflix.
With an eighth season under its belt, Big Mouth will overtake Grace and Frankie, and Orange Is the New Black as the longest-running Original on Netflix.
---
What to expect from the Eighth and Final Season of Big Mouth?
Nick
Unlike his fellow classmates, Nick is not attending Bridgeton High School. Instead, Nick has been sent to a private school through his mom's vain hope that his behavior will change and he won't be going down the same path as his older brother Judd.
Nick had spent most of the season trying to get closer to an older student, but after an awkward encounter, that came to a swift end. Now lonely at his new school, Nick was recruited to Mrs Cornhill's "sad boys club." However, Nick meets Andrew, a fellow club member, but after striking up a quick friendship the pair leave the sad boys club.
After the new Andrew meets old Andrew, it's evident that next season the pair will be fighting over the position of Nick's best friend. With Mrs Cornhill's promise that her sad boys will return to her, Nick has to be careful that he doesn't lose both Andrew's as friends.
Andrew
Everyone's favorite perverted Jewish teenager, Andrew finally took ownership of his actions and apologized to Timon for accidentally fondling her breasts. However, that didn't stop her boyfriend, Pumba, from beating the hell out of him.
With Andrew turning over a new leaf, he might be able to save his disastrous start to life in high school. However, he will be spending the start of next season fighting for the position of Nick's best friend against the new Andrew.
Jessi
Thanks to getting on the wrong side of Lulu, it looked like Jessi was going to have a rough time in high school. However, after finding a way to befriend Lulu, Jessi ditched hanging out with Nick's older sister and the popular kids and officially became one of the stoner kids.
Jessi was one of the smartest students in Bridgeton Middle School, so it will be interesting to see if befriending Lulu and the stoners will have an impact on her grades.
Missy
Missy was initially extremely excited about life in high school with asexual boyfriend Elijah, however, he dropped a bombshell on her that he was no longer going to Bridgeton High, and would be attending a religious school elsewhere. High school then terrified Missy and filled her with dread.
Missy eventually came clean about her feelings about high school, resulting in her dad agreeing that she should be homeschooled instead. However, her mom is more reluctant to the idea and only agrees for it to be temporary. While initially happy at the idea of being homeschooled, Mona reminds Missy that without high school she won't be meeting any boys anytime soon.
Jay
Despite being one of the worst students at Bridgeton Middle School, Jay was able to graduate so long as he attended summer school with Coach Steve. Jay struggled to come to terms with Lola dating his older brother, as he still loves her. At least for Jay, he has a place in high school amongst the 'basement dweller kids' such as Nick's older brother Judd.
Matthew
Matthew quickly found his place in high school amongst Bridgeton High's Queer Choir aka the B-High Quee-Choi. He's also made some progress at home with his religious parents, who have begun to teach Matthew's siblings about LGBT relationships. However, it is heavily hinted that Matthew's dad is in the closet, or certainly bi-curious.
We expect Matthew to thrive as a member of the B-High Quee-Choi and may find himself a new boyfriend, and officially move on from Jay.
---
What is the episode count of Big Mouth season 8?
The final season will feature a total of ten episodes. This will take the final episode count to 81.
---
Will you be sad to see Big Mouth end after 8 seasons? Are you looking forward to the final season? Let us know in the comment below!