Welcome to your weekly rundown of the biggest stories from Netflix's top 10 hourly figures drop for the week ending July 30th, 2023.
This week, we've got a lot to cover.
Titles covered include Happiness for Beginners, Miraculous: Ladybug & Cat Noir, D.P. season 2, Sintonia season 4, Baki Hanma, The Tailor volume 2, and Survival of the Thickest.
This report is based on the Netflix top 10 hourly data figures that Netflix releases. Every Tuesday, Netflix updates its top 10 stats page with 40 new hourly figures of the top movies and shows of the past seven days.
Note: In this report of Netflix's hours viewed from July 24th, 2023 to July 30th, 2023, we'll use "Complete Viewings Equivalent," or CVE, expressed in millions. That means we divide the hours viewed announced by Netflix by the runtime of films or series. It allows for better comparisons between films and series, but it's not an audience metric. It is the minimum number of viewings if they were all complete from the first second to the last of the film or season.
---
1. Happiness for Beginners lost its way in the woods of Netflix's catalog
A few years back, Netflix started what it called "The Summer of Love", aka its summer line-up of romance films that did over the years pretty good numbers and started trilogies such as The Kissing Booth and "To all the Boys I've Loved Before.
But this year, the Summer of Love is more like the summer of disappointments as no romance film line-up this summer managed break through in the way the aforementioned titles did.
The latest attempt is Happiness for Beginners, or more like "Sadness for Ellie Kemper," which launched with 9.3M CVEs, one of the worst launches for a romance film released on a Thursday.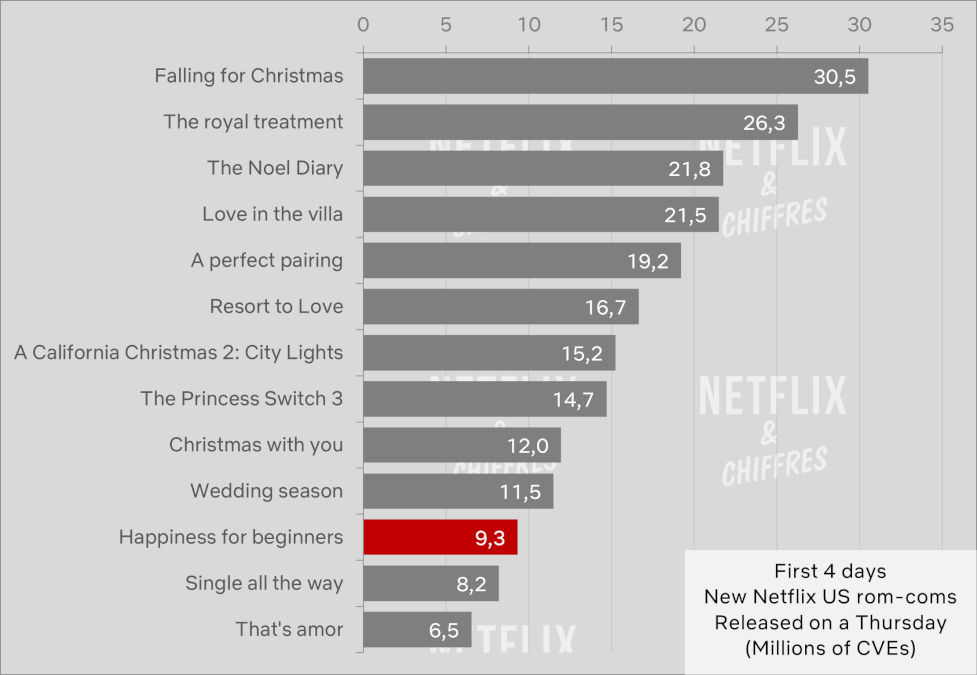 Last year, Wedding Season with a relatively unknown cast, launched at this time of year to 11.5M CVEs, which seems like a great number now in hindsight.
---
2. Miraculous: Ladybug & Cat Noir is off to a miraculous start.
With 12.2M CVEs over its first week-end, Miraculous: Ladybug & Cat Noir is the fourth launch for a Netflix animated film but there's a catch: it is not a Netflix Original film everywhere in the world, like films such as The Sea Beast or Vivo.
Instead, it was released theatrically in some parts of the world (mostly in Europe and in my native France), while Netflix released it everywhere else. So its numbers are not global ones but with fewer territories than the other Netflix films in the charts, which makes this start all the more impressive.
---
3. "Paradise" is in a good place for its launch
German dystopian thriller Paradise about people buying the right to be young forever, launched with 8.2M CVEs over its first four days, making it the fourth-best launch for a European film released on a Thursday.
Quite a good start and we'll see how it will age.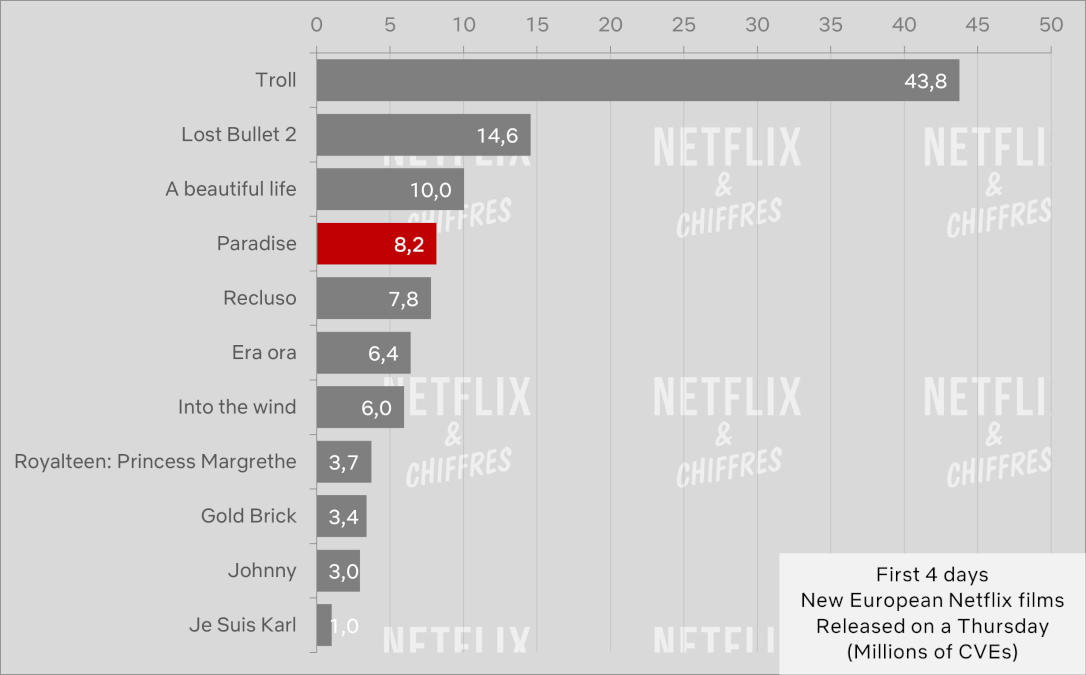 ---
4. Returning international series are doing great, thank you.
July was the month of disappointing returning US series, with The Witcher, The Lincoln Lawyer, and Sweet Magnolias showing signs of decay with their new seasons.
Last week, a handful of international series returned and they're off to a great start. The Brazilian series Sintonia, for instance, did a better launch with season 4 than with season 3 and season 2.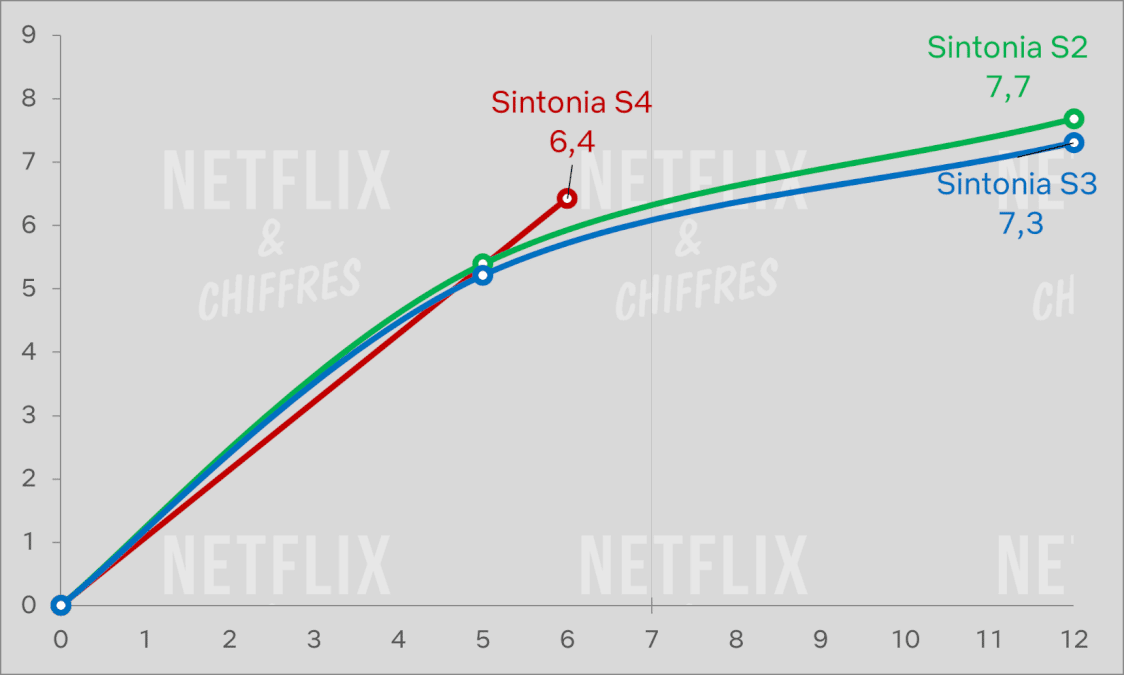 Over in Asia, season 2 of the Japanese anime series Baki Hanma obliterated the launch number of its first season.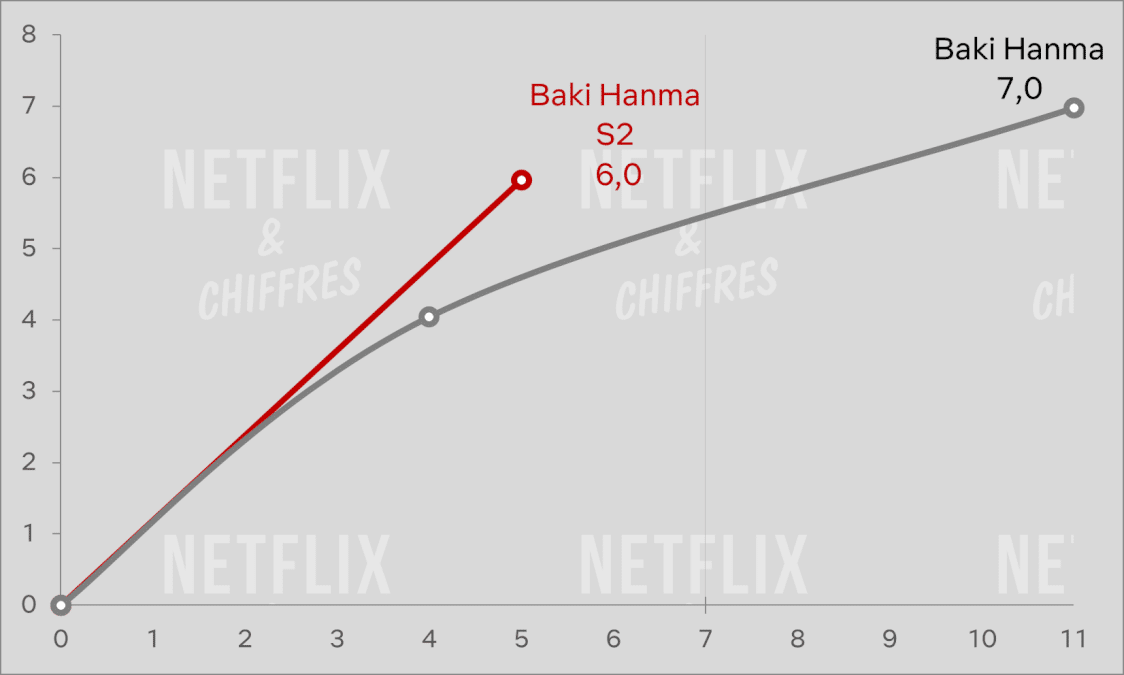 The same thing happened with the South-Korean series D.P. with a fantastic launch that improved the launch of its first season by 65%.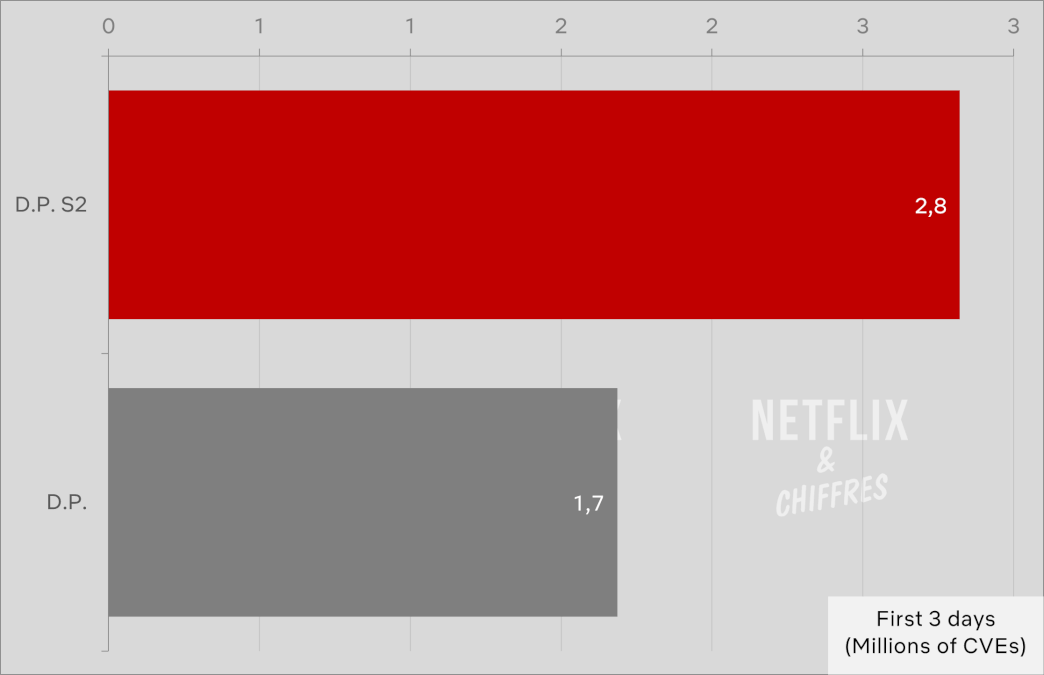 Less impressive is the launch of season 2 of the Turkish series The Tailor, but it's only a slight decay from the launch of its first season a few months back.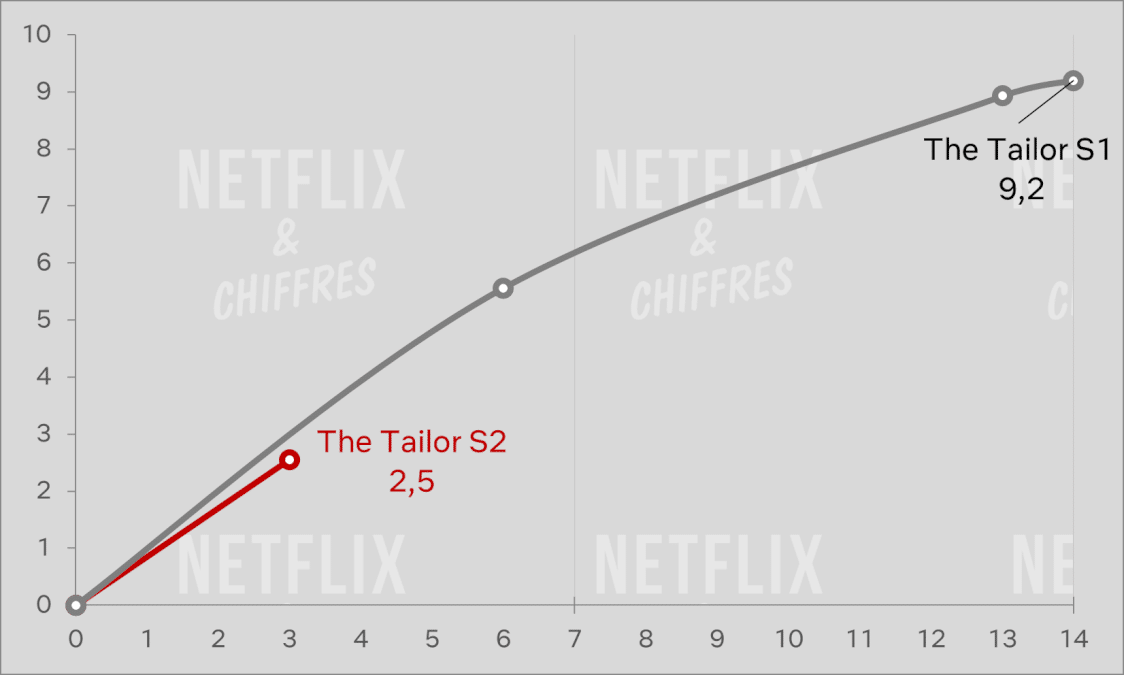 It's worth noting that it's the first time since the change of the Top 10's methodology by Netflix that the cumulative number of views for the international series Top 10 is higher than the cumulative number of views for the English series Top 10. Sure, we only have a few weeks' worth of comparisons, but it shows that the English series either underperformed last week or the international series overperformed. We'll keep an eye on that!
---
5. A check-in on Survival of the Thickest
Some of you (not all of you) may be wondering, "How is "Survival of the Thickest doing?", the latest new US series from Netflix? Well, three weeks in, the series is holding pretty well, but its numbers are nowhere near they should be to secure a swift renewal, with only 8.6M CVEs after 14 days, one of the lowest launches for a new US series released over the past two years.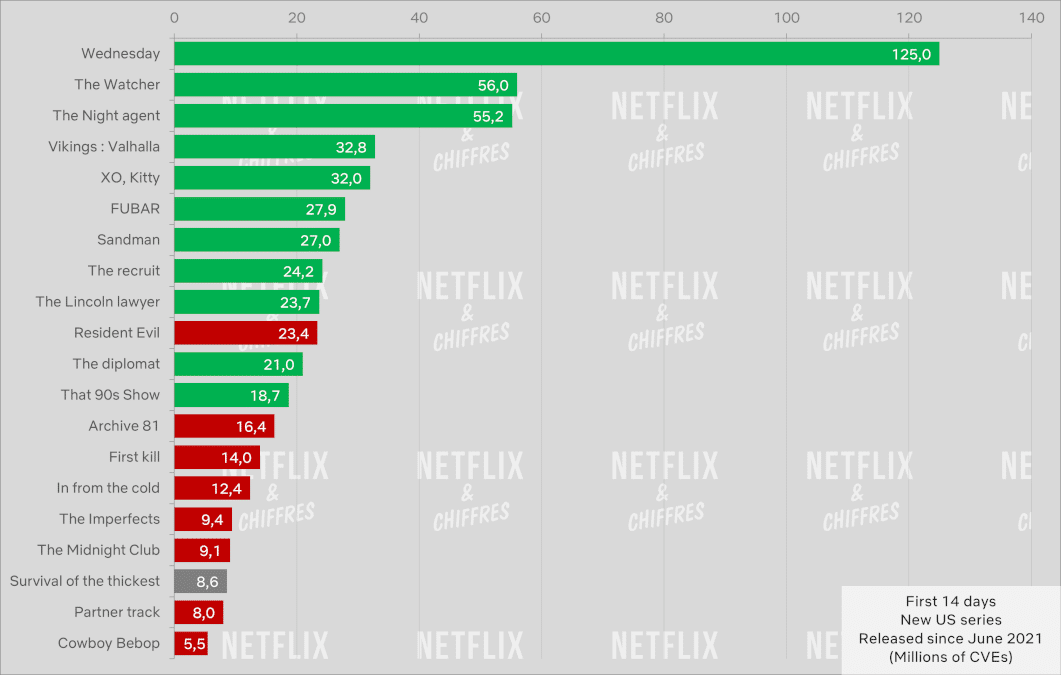 As you can see, the series is surrounded by series that was quickly canceled, but renewal is not impossible too. Other factors come into play, and as we saw with Mo, for instance (which did not even chart for its first week and got renewed), there's still a slim possibility of renewal.