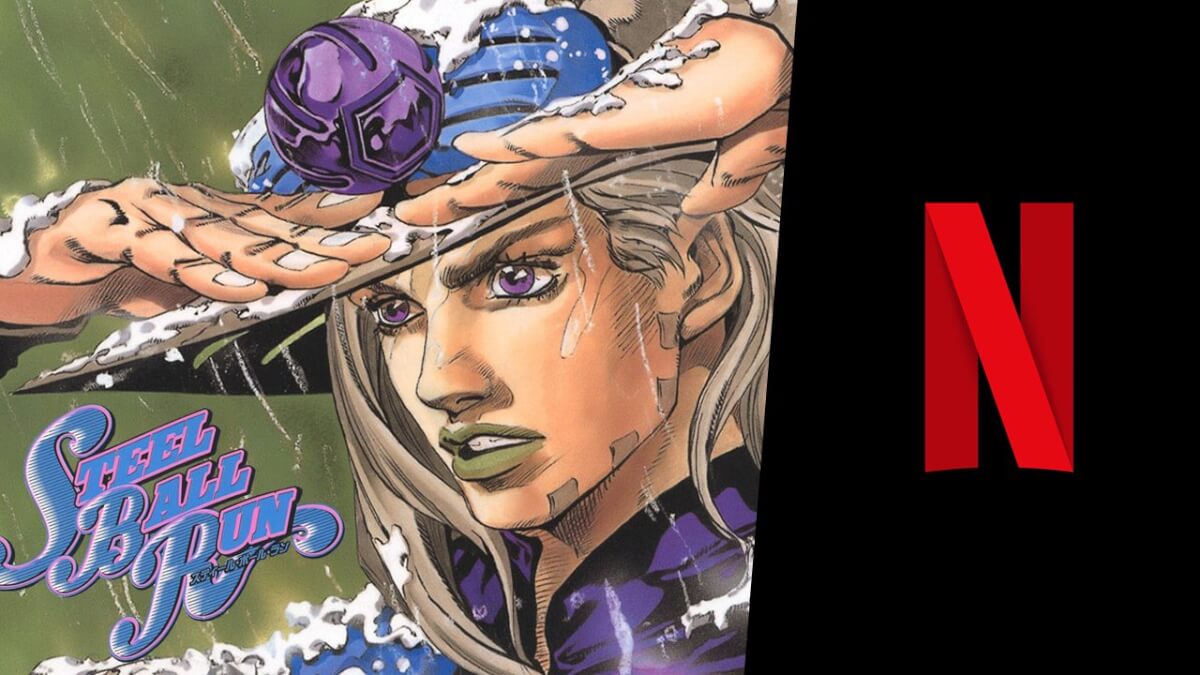 Fans of Jojo's Bizarre Adventure have been incredibly patient waiting on news on what should eventually be the sixth installment of the anime adaptation, Steel Ball Run. Sadly, there is no news related to the development of Steel Ball Run or a potential Netflix release. However, we will be keeping track of all of the news related to Jojo's Bizarre Adventure: Steel Ball Run on Netflix.
Steel Ball Run is the seventh arc of Jojo's Bizarre Adventure manga from author Hirohiko Araki. The series takes place after the events of Stone Ocean and is set in a brand new continuity that exists outside of the first six arcs. Its manga serialisation ran from January 19th, 2004 to April 19th, 2011 for a total of 95 chapters, and 24 volumes. Steel Ball Run is one of the most beloved arcs of the entire franchise, and fans are waiting extremely patiently for news of its potential anime adaptation.
Is the Steel Ball Run anime in production?
In 2018, three years prior to the release of Stone Ocean, the director of the Diamond is Unbreakable, Golden Wind, and Stardust Crusaders adaptations, Naokatsu Tsuda, openly discussed that he would like to adapt all parts of Jojo's Bizarre Adventure manga. However, he was not involved in the Stone Ocean series,
A positive sign that there are plans for the Steel Ball Run anime is the patent for the adaptation that was reportedly submitted the same day as Stone Ocean's.
Sadly, despite the early positive signs, at the time of writing, there is still no confirmation that the Steel Ball Run adaptation is currently in production.
A helpful Twitter account is diligently updating the world daily on whether or not Steel Ball Run has been confirmed.
Day 271

Steel Ball Run is not confirmed.

Top five PART 7 characters? pic.twitter.com/UQwABKbCc7

— Is Steel Ball Run Confirmed? (@PART7Confirmed) August 30, 2023
It must also be noted that the studio behind the animation Jojo's Bizarre Adventure has been exceptionally busy working on other adaptations such as Spriggan, Urusei Yatsura, and the third season of Fireforce.
---
What is the plot of Steel Ball Run?
The synopsis for Steel Ball Run has been sourced from Anime News Network;
"America, 1890. The longest and largest race ever, the Steel Ball Run, is about to start. It's a race from San Diego, California all the way to New York City, New York, and while horses are the traditional racing medium, anything can be used. The winner is the one with the most points, via checkpoint placement, when they reach New York. The prize: $2,000,000. Gyro Zepelli, a mysterious man with an equally mysterious steel ball, is planning on winning the race. Johnny Joestar (JoJo) is a former jockey who's cockiness got him paralyzed from the legs down. An accidental contact with the steel ball made his leg twitch, so he's in the race the learn about Gyro's steel ball. But the challenges of Diego Brando, a popular European jockey, Pocoloco, a slave with the Devil's Luck, Sandman, a Native American who is sprinting all the way to NYC, and others will make it hard for Gyro and JoJo to win."
---
When could we expect to see Steel Ball Run released?
Assuming that Steel Ball Run adaptation will happen, the online consensus is that we'll be waiting until 2025 or 2026.
Here's when the previous seasons were released;
Season 1 – Phantom Blood – October 2012 to April 2013
Season 2 – Stardust Crusaders – April 5th 2014 to June 2015
Season 3 – Diamond is Unbreakable – April 2016 to December 2016
Season 4 – Golden Wind – October 2018 to July 2019
Season 5 –  Stone Ocean – December 2021 to December 2022
Will Steel Ball Run be coming to Netflix?
Alongside no official confirmation that Steel Ball Run is in development, there also isn't any confirmation that the adaptation will be coming to Netflix.
Once there is confirmation that Steel Ball Run is in development we will likely learn which streaming service will have licensed the distribution rights.
Taking into consideration how well received Stone Ocean was on Netflix, we are expecting to see Steel Ball Run arrive eventually.
---
Do you want to see Jojo's Bizarre Adventure Steel Ball Run on Netflix? Let us know in the comments below!